"NEW MOON" NECA SEALED TRADING CARD BOX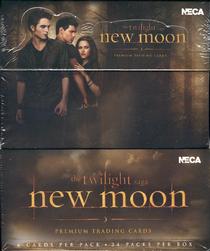 Each box will contain at least 1 basic set of 72 cards plus a selection of randomly inserted bonus foil chase cards.

Configuration: 24 packs per box. 6 cards per pack.

The Twilight Sage: New Moon Premium Trading Cards

SET COMPOSITION
72 Base Cards.
Randomly-inserted Bonus Cards Feature:
- 9 card Puzzle-New Moon: 1 in every 7 packs
- 6 card Puzzle-The Wolfpack: 1:11 packs
- 6 card Set-The Volturi Coven: 1:11 packs
- 3 card Set-Seeing Alice: 1:23 packs
- 1 card Reckless: 1:104 packs

Stated odds reflect average of entire production run; this ratio is not guaranteed to exist within any individual box or case.