"THE HATEFUL EIGHT" COMPLETE SET OF EIGHT 8" FIGURES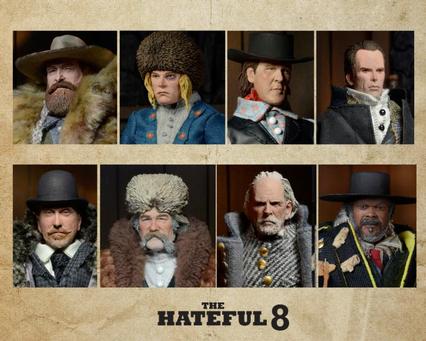 Each fully articulated figure stands 8" tall and is dressed in intricately tailored fabric clothing, similar to the iconic toy lines of the 1970s. All feature authorized likenesses, and come with character-specific accessories from the movie, like pistols, rifles, shackles, gun belts, holsters, and more, in window box packaging.
Set includes:
Major Marquis Warren (The Bounty Hunter) - Samuel L. Jackson
General Sandy Smithers (The Confederate) - Bruce Dern
Joe Gage (The Cow Puncher) - Michael Madsen
Sheriff Chris Mannix (The Sheriff) - Walton Goggins
John Ruth (The Hangman) - Kurt Russell
Oswaldo Mobray (The Little Man) - Tim Roth
Bob (The Mexican) - Demián Bichir
Daisy Domergue (The Prisoner) - Jennifer Jason Leigh
NECA is only doing one production run of these figures and they are limited to 3,000 sets.
NOTE: These action figures are intended to be representations of their movie counterparts, and should not be construed as social or political commentary on the part of the manufacturer.
Because of the limited nature of these figures, you will be charged for your preorder immediately upon placing your order and no refunds will be issued as we have to commit to purchase and cannot cancel our orders. Your figures will ship in January when they are released by the manufacturer.