SDCC 2011 TODD & THE BOOK OF PURE EVIL PROMO GUITAR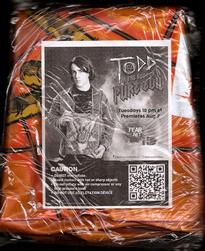 A 2011 San Diego Comic-Con promotional item: an inflatable guitar promoting the television show "Todd & The Book of Pure Evil."

This Canadian horror comedy is about a stoner metalhead named Todd Smith, his crushee Jenny, his best friend Curtis, and the geeky Hannah, as they search their high school for a mayhem-causing Satanic spell book, while being opposed by Atticus, the evil guidance councillor. Starring Alex House, Maggie Castle and Billy Turnbull.

This inflatable guitar is sealed in original package.