INDIANA JONES MAGAZINE #3 PREVIEWS EXCLUSIVE COVER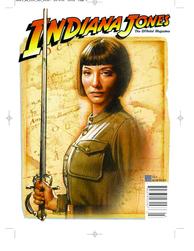 In the latest issue, we reveal 50 things you didn't know about Indiana Jones and the Kingdom of the Crystal Skull! Robert Watts talks about The Last Crusade. Plus, the top 10 Indy stunts, Indy's travel guide and 'Raiders of the Lost Toy Shop!' Available in Newsstand and PREVIEWS Exclusive editions.

NOTE: This is a preorder slated to ship in August (subject to change without notice by the manufacturer). Your credit card will be charged when the item is about to ship out to you.