POTC 2: Dead Man's Chest Jack Sparrow's Sword Replica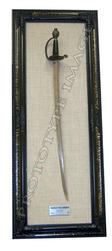 Whether he?s battling the British Navy, sea monsters, ghostly pirates or the dreaded Davy Jones himself, Captain Jack Sparrow wields his cutlass like ferocious deadly lightning. Best to stay clear of that slashing blade, mates.

Cutlasses are a type of sword with single edged, heavy blades made for slashing rather than thrusting. The weapon was favored by men at sea because its shorter length and slightly curved blade was better suited for hand-to-hand fighting in close quarters -- like the deck of the Black Pearl.

For filming Pirates of the Caribbean, cutlasses were made in several weights depending on their use. For close ups and non-action scenes, steel was used, while for long shots and lengthy battle scenes, swords were made of lighter aluminum.

Master Replicas is proud to offer this special hero prop replica of Jack Sparrow?s Sword as part of the Walt Disney Showcase Collection. It has been recreated with painstaking care to give your office or home an air of salty swashbuckling adventure.

Product Information
?Authentic replica of Jack Sparrow's cutlass as seen in Pirates of the Caribbean II: Dead Man?s Chest, complete with weathering and wear marks.
?Constructed from stainless steel blade has a protective clear coating.
?Sturdy full tang construction.
?Displayed on an antiqued wall mounting frame with a numbered Limited Edition plaque.
?Limited edition of 3000.

NOTE: This is an oversized item, weighing 20 pounds so shipping charges will be higher.