Orb of Thessulah Prop Replica w/Robia LaMorte Signature Certificate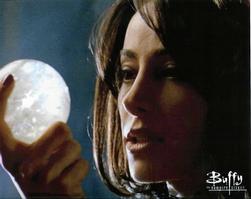 Get the Orb of Thesaluh with this exclusive numbered certificate signed by Jenny Calendar (Robia LaMorte) herself.

Through special arrangement only with CineQuest.com, Robia LaMorte will sign 100 full-color certificates featuring a photo of the actress as Jenny Calendar holding the Orb of Thesaluh and Robia LaMorte's autograph.

Along with the certificate, signed by Robia LaMorte, you will receive Palisades/Factory X's latest Buffy prop, the Orb of Thesaluh prop replica, which is made of translucent polyresin, complete with mystical swirls inside and comes packaged in a replica wooden box, with deep purple velvet lining (darker than appears in this photo)..

In "Passion," technopagan Jenny Calendar goes to a magic shop and purchases one as part of her plan to re-ensoul Angelus. She is killed by Angelus before she can tell anyone of her plan. In "Becoming Part 1," Willow and Buffy discover that Jenny had decrypted the texts. Willow found that to do the spell, an Orb of Thessulah was needed. It just so happens that Giles was using it as a paperweight (A little trivia: When Jenny purchased the orb, the shop owner said that only one other person had bought one from him, but was using it as a paperweight).

Willow attempts the spell in Part 1, but is interrupted by Drusilla. In "Becoming Part 2," Willow uses the Orb and Jenny's translation from her hospital bed to successfully re-ensoul Angelus even as Buffy sends him to Hell.
| | |
| --- | --- |
| Condition: | New |
| Star: | Robia LaMorte |