KOTOBUKIYA STAR WARS COMMANDER BLY VINYL MODEL KIT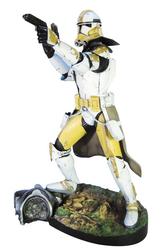 Dark Horse continues its exciting import program of the award-winning Kotobukiya Star Wars vinyl figures. Consisting of a few easy-to-assemble parts, Commander Bly stands 11 inches tall.

Clone commander 5052, also known as Bly, was the leader of the Star Corps of clone troopers assigned to Jedi General Aayla Secura. When the executive command,
Order 66, was received from the Supreme Chancellor on Coruscant, identifying Secura as a traitorous enemy of the state, Bly, demonstrating his unerring loyalty to the Republic, raised his rifle and opened fire on his commanding officer, coldly killing the unsuspecting Jedi.

A recognizable character in the film Episode III Revenge of the Sith, Commander Bly is a clone trooper not easily forgotten.