CELEBRATING 15 YEARS COMMEMORATIVE PINT GLASS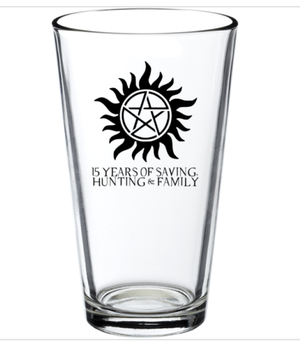 After 15 years of saving people and hunting things, Sam and Dean Winchester will head off into the sunset on November 9th with a series finale preceded by a one-hour retrospective tribute called Supernatural: The Long Road Home.
To bid the boys a final farewell, we've put together a bunch of specials on Supernatural collectibles, including sets of Life-sized Standees of Sam and Dean (take some photos with the Winchesters on Finale Night!), Sam and Dean Tabletop Standees to dress up your buffet or snack table, and some amazing Finale Party Gift Bags to give your guests some amazing Supernatural items to take home, along with great memories!
We've also created this commemorative 12 oz pint gass so you and your friends can tip a pint in honor of Sam and Dean.
NOTE: This is a preorder that will be immediately charged to your card. The glasses will ship the third week of October.