TWILIGHT INKWORKS PREMIUM TRADING CARD COLLECTORS ALBUM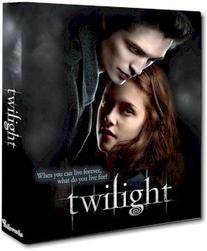 Inkworks announces the release of Twilight Premium Trading Cards, based on the highly-anticipated feature film and #1 best-selling book. This action-packed, modern-day love story tells the tale of Bella (Kristin Stewart), an average teenage girl, who moves to a small town where she falls in love with an extraordinary boy (Robert Pattinson) that puts her life on the line by igniting an epic battle between two vampire clans.

This is the original sealed three-ring trading card album for the set, produced by Inkworks.