BATMAN MESSENGER PRINT BAG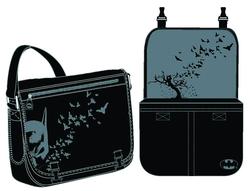 When you need to carry your papers and books to school, these DC Heroes Messenger Bags will come in handy. Each feature one of DC Comics' top characters printed on the canvas. Criminals are a cowardly and superstitious lot, and when they see you carrying the Batman Messenger Bag, they'll think twice. The Flash Messenger Bag features a washed out appearance and the Flash's logo on the flap.

NOTE: This is a preorder for an item slated to ship in June (subject to change without notice by the manufacturer.) Your credit card will be charged when the item is about to ship to you.